Brand-new Magento Abo Manager
Abo-Commerce, the newly discovered trend in e-commerce. Subscriptions are popular with users as well as with merchants; for the merchants they are a means to boost customer loyalty - for customers an increase in comfort and convenience.
Why is Abo Commerce the Sensible Choice?
Bei Abos kümmert sich der Händler um die Logistik und den regelmässigen Versand der Produkte wie auch um die Bezahlung mit den hinterlegten Bezahlinformationen (bsp. Kreditkarten).
Für den Händler sind Abo-Kunden insbesondere aufgrund Ihrer Loyalität interessant. Auf der anderen Seite haben Abos für Kunden den Vorteil, dass diese sich nicht mehr um den Einkauf der Produkte kümmern müssen. Für den Verkauf im Abo eignen sich Produkte des täglichen Gebrauchs wie beispielsweise Socken, Kontaktlinsen etc. Diese Produkte zeichnen sich durch einen hohen wiederkehrenden Bedarf auf.
Challenges
A subscription system requires numerous preconditions concerning the merchant's infrastructure. Above all in the process of settling recurring payments. In case of recurring payments, the customer stores his or her payment information with the Payment Service Provider. The storing with the merchant would involve costly examinations and technical obstacles due to the strict safety regulations. The settling of subscriptions as well as the initiation of orders has to be automated - even in the case of small shops - due to the complexity of varying delivery periods, intervals, starting dates, etc.
Experience shows that especially the handling of settlements and the automated order initiation connected with it poses the greatest technical obstacle for merchants. Credit cards have an expiry date. Besides the automated debiting of the card, the card data must therefore also be kept up to date.
Outsource Subscriptions to a Subscription-Service or Handle them Directly within the Shop?
By now several services such as Reskribe exist which take care of the recurring charging of cards. But do you really want to have your orders handled by a third party system outside of the shop and then have to organise a payment connection back to your shop?
We are convinced that a professional subscription administration must be integrated directly into your systems. There are several significant reasons for this. For one, these providers only offer payments by credit card and direct debit. However, we do not see reason why one shouldn't also offer payment by invoice or other payment methods. Furthermore, the merchant must take of another integration in his or her shop and pay for the transaction of credit cards as well as for the administration of the subscriptions. Most importantly, however, the information is forwarded by a third party and not by the shop itself. This raises questions concerning data protection laws.
sellXed Abo Manager for Magento
We have developed a module for Magento due to the above mentioned reasons. With this extension you can handle subscriptions directly in your shop without any much effort. A connection to an additional provider is therefore not necessary. By acquiring the payment module of sellXed you can easily integrate subscriptions into your shop.
Creation of Subscription Products
With just a few clicks you can convert existing products into subscription products - simply saving the subscription data within the usual product editing menu. Alternatively, you can also create new products and specify the running period and cycle, possible notice periods of products as well as delivery costs.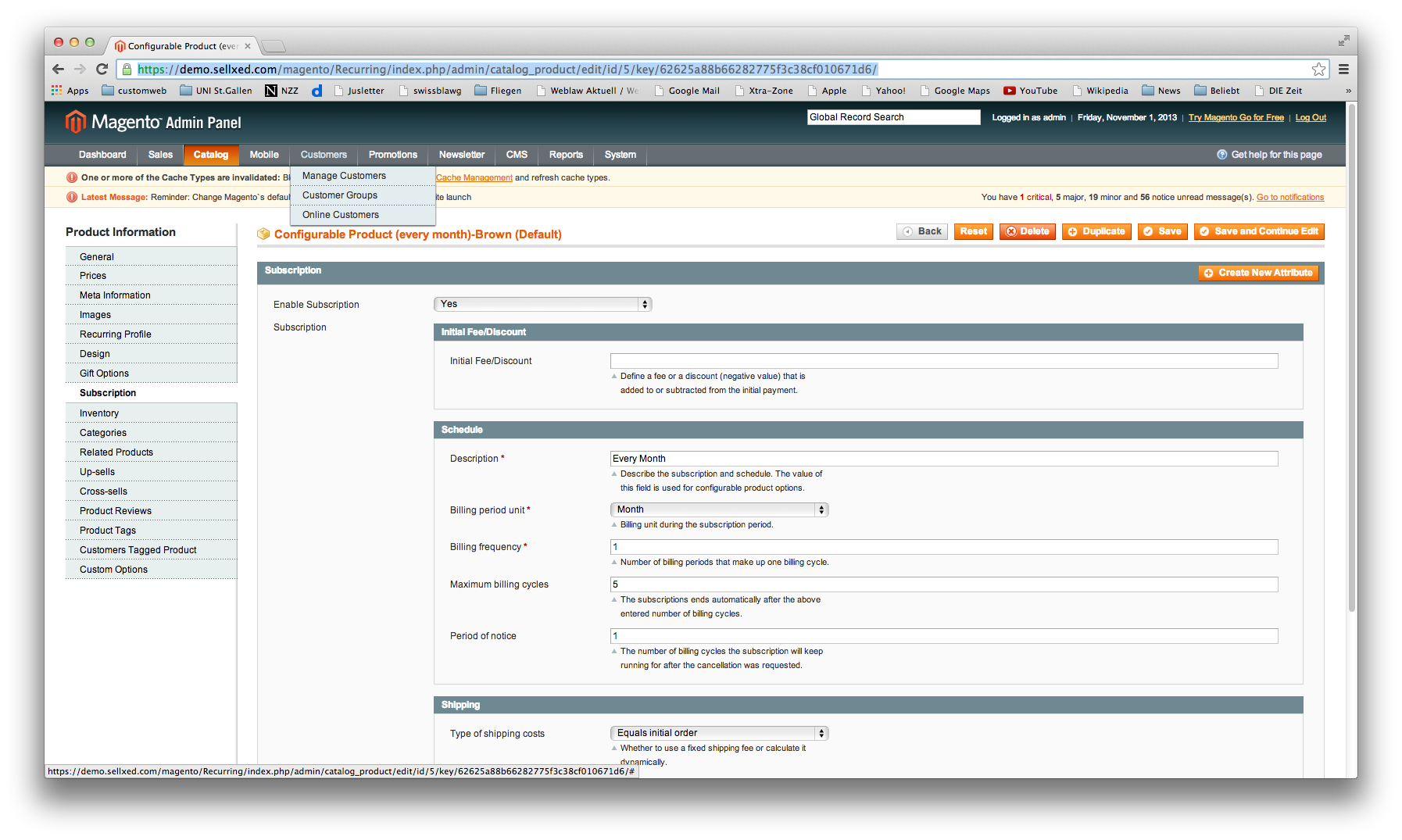 Creating Articles and Abo-Cart
The module offers even more than that. You can now give your customer the possibility of subscribing to an entire cart. This allows for even more flexibility for you and your customers. Any given product combination can be ordered in the specified intervals.
Payment and Management of Expiry dates / Payment Information
As mentioned before, the management of recurring payments requires numerous preconditions concerning the merchant's system. The Abo Manager automatically takes care of expired credit cards and sends out a reminder e-mail asking the customer to renew his or her payment information.
Every Payment Method is Subscription Compatible
Usually, subscription providers limit the available payment methods to credit cards. With the Abo Manager of sellXed you can integrate any payment method. From payments by invoice to e-banking payment methods - you can offer them all for recurring payments. In the case of the latter method, the customer will simply receive a freely configurable e-mail with the payment link for the payment of the outstanding amount.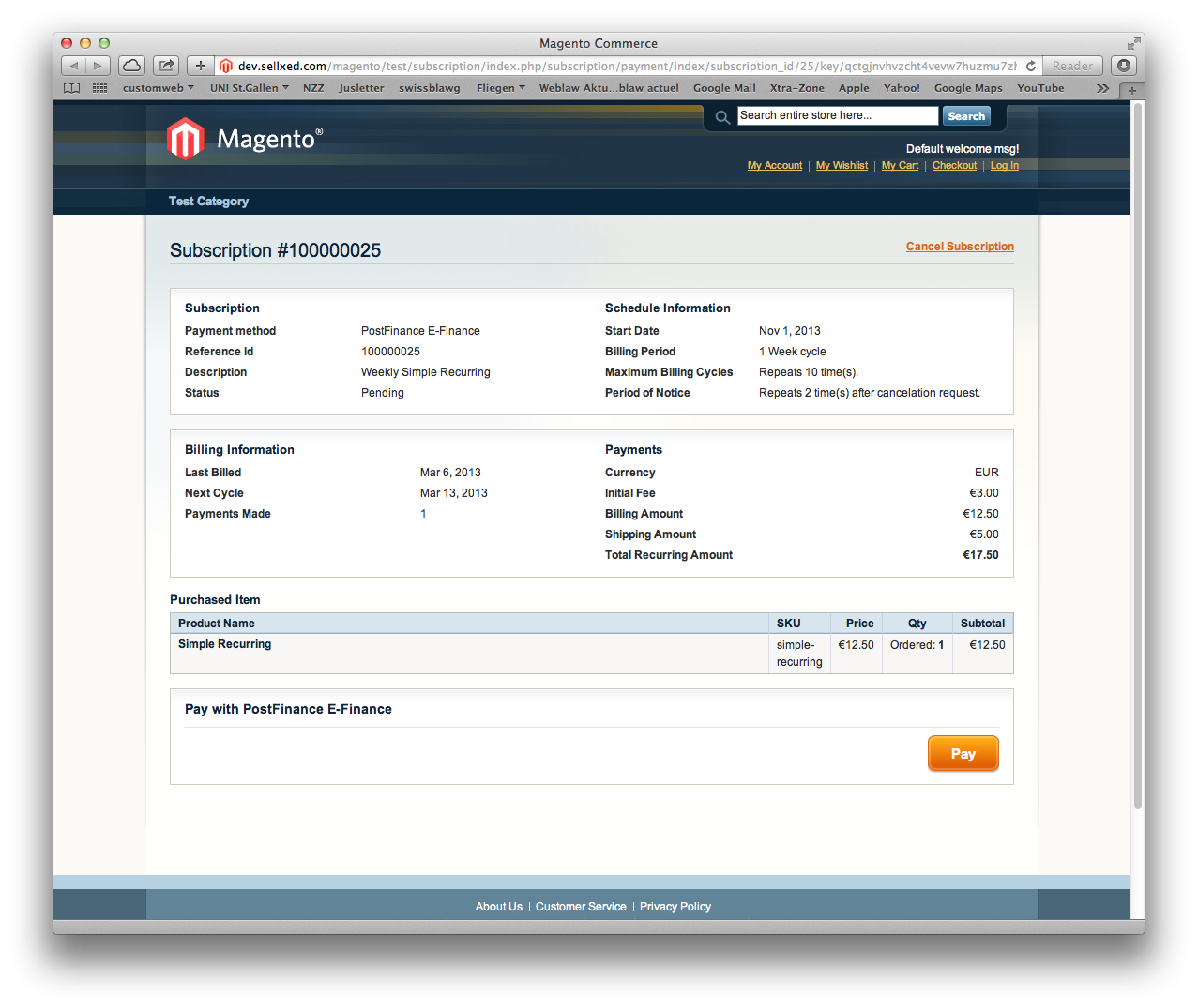 Administration of Subscriptions
The subscriptions can be cancelled by the customers with a click in their customer account. Alternatively, merchants can register new subscriptions or reactivate them with a few clicks too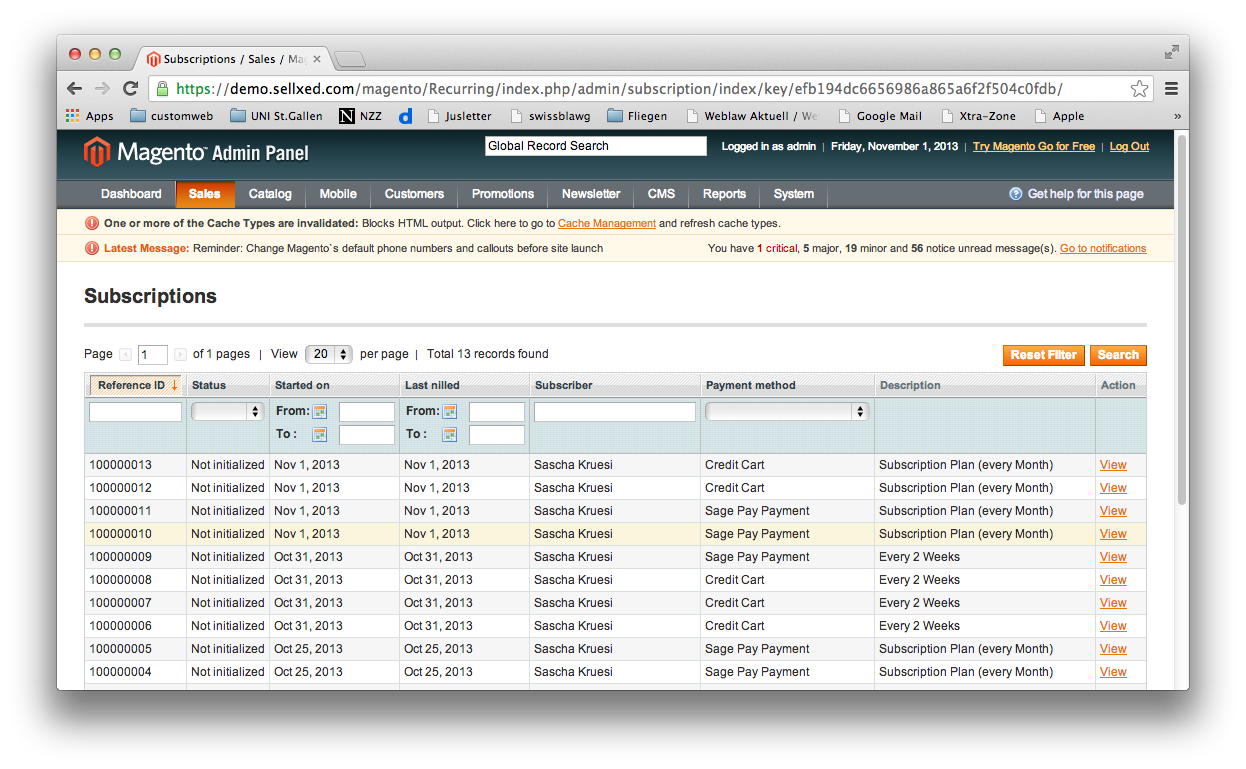 Features:
Here are all the features in an overview: :
Selling of subscriptions for all of Magento's product groups except for Grouped Products
Freely definable subscription intervals and cancellation periods
Freely definable reminder e-mail templates for payment as well as payment information updates
Freely definable period for the debiting of the card
Fixed shipping costs or fixed shipping costs in connection with the initial order
Sign-Up Fee or Discout
References in the back-end concerning failed subscriptions
Intelligent test mode to test the integration
Possibility of exclusion of certain products from the subscription feature
Setting of minimal and maximal order totals
Demo
The entire integration can be tested on our test-sytem:
Related Modules
The Magento Subscription Manager is compatible with all of sellXed's payment modules:
In case of questions, we are gladly at your disposal.
---