Award-winning Sage Pay Integration from sellXed for WooCommerce
These days, one cannot imagine e-Commerce without cashless payment methods and merchants value the benefits they offer.
Merchants need to differentiate themselves from their competitors in order to secure secure competitive advantages in the long term. Among other things, the integration of an e-Payment interface and the number of accepted payment methods have great potential to promote differentiation. The latter will be discussed in this blog entry.
The number of accepted payment methods in a shop is one of the most popular starting points for differentiation. A carefully thought out combination of payment methods can play an important role in increasing sales steadily. For instance, allowing credit cards as a payment method can raise the conversion by up to 60% (http://www.ecommerce-leitfaden.de/leitfadeninhalte-und-tools.html). Again, this underlines the importance of targeted implementation of e-Payment methods and their positive influence on a merchant's sales.
Along with the combination of payment methods, the payment interface integration can be deployed to differentiate a business from competitors. Making the payment process as simple as possible increases the conversion rate and thus the sales. Patrick Niesler and the AC Surfpaket are a prime example for this:
Integrating the credit card as a payment method, increased Niesler's sales drastically. Since the majority of his customers is young and used to paying by credit card, it is a suitable payment method. Additionally, credit cards provide flexibility when charging customers. It is possible to reserve a specific amount as a payment guarantee for the rental on the customer's card. Afterwards, the customer will only be charged the definite amount according to his actual use. With the sellXed payment module, processes like this can be operated directly from the shop with a simple click, making the time consuming log-in at the Payment Service Provider unnecessary.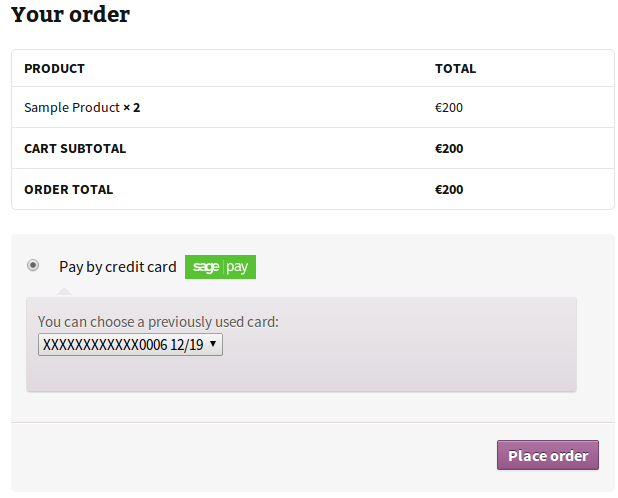 The example shows the alias manager integration
Another way to tap the full potential of differentiation is the use of technical details that make the customer's shopping experience more convenient. With the Token-Solution, AC Surfpaket's regular customers can place orders without repeatedly entering their data. This makes future orders simple and fast, especially when ordering from a mobile device.
This shows how the conversion rate and thereby sales can be increased continuously by a targeted implementation of the technical possibilities that today's e-Payment gateways offer. Thus it is profitable to consider the accepted payment methods as well as the options for integrating them. In many sectors, successful differentiation needs more than the addition of another payment method and can only be accomplished by considering the needs of the business itself as well as those of the customer.
Patrick Niesler's shop (http://actioncam-surfpaket.de/) is a great example for this. For his e-Payment integration with a payment module from sellxed.com, Niesler won the Best-in-eCommerce Award in the category "Best Payment Integration".
---